Munchkin Sit and Soak Dual Stage Baby Bath Tub, 0-12 Months
Munchkin Sit and Soak Dual Stage Baby Bath Tub Product highlights!
Non slip, compact infant tub holds baby upright in a safe seated position
Keeps baby warm with optimal water levels measures: 25 inch x 16.25 inch x 15 inch
Pull tub drain makes it easy to clean. Latex-free
Built in support bump keeps baby safe and padded foam backrest adds comfort for baby
Handle doubles as storage hook; 0 – 12 months
Munchkin's Sit and Soak Baby Bath Tub
Innovation through the simplest of features! Discover Munchkin's Sit and Soak baby bath tub. This is a non-slip tub that will keep your baby upright with optimal ...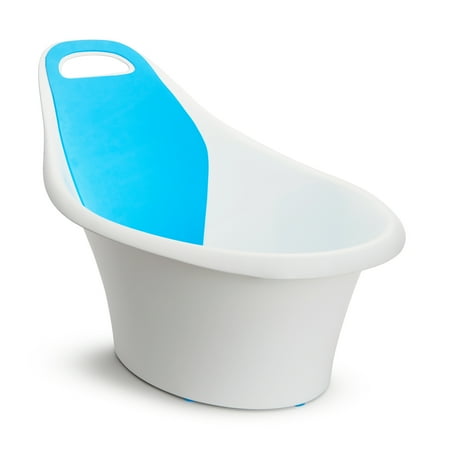 Munchkin Sit and Soak Non-Slip Baby Bath Tub with Built In Support Baby Bump, 0-12 Months, White
Bath time can be a wonderful bonding experience, but if you're struggling to keep baby secure or warm, it can be stressful, too. The Sit & Soak baby tub from Munchkin is your new best friend! Designed to keep even the littlest babies in an upright position, this innovative non-slip tub features a padded backrest and built-in support bump that keeps babies safe in the water's warm embrace. The handle doubles as a storage hook, keeping its footprint small, while the sleek and simple design works with any bathroom decor. Comfortable, warm, and secure, it's everything an infant bath should be.
User reviews
Durable, secure and versatile! This Munchkin Sit and Soak Non-Slip Baby Bath Tub is my absolute favorite, I really enjoyed bathing our newborn in it. A padded backrest and built-in support bump keeps him held up and safe so that he doesn't fall into the bathwater. The bathtub fits well into my kitchen sink and that works really well for me as I don't have to lean over. It has a drain with a silicone plug that holds in all the water really well and makes cleaning quick and easy. I love the markings on the bathtub that show how much water to fill. The bottom of the tub has grippers to keep it sturdy and prevent from sliding. The overall quality is great and its simple and sleek design fits perfectly with our bathroom decor. Definitely recommend this tub! I received this product in exchange for my honest feedback.
Great tub. This is a great baby bath. Its a good size for baby. Supports him really well. I love that it has a drain in the bottom of the tub. It is easy to open the drain and let the water our. The markings that show how full it should be is really nice. Makes it easy to fill up to the right amount. Great baby shower gift! I received this product in exchange for my honest feedback.
Bathtime. I found tub to be a good size and give support to my child during bath time. I like that it has a bottom drain for the water to release with easy and hold it in and found very easy to clean for next time. I love the design it remind me of a old fashion tub you see in the western movies. I received this has a complimentary and will have many fun bath time with my child.
Nice deep and sturdy tub. The Munchkin Sit and Soak is made to last! It's made of a very durable plastic and withstands the constant movement in our bathroom (4 people using the same bathroom.) The bottom of the tub does not slip which is a plus from every other baby bath that I have owned. It stays in its place. The tub is deep enough so baby can splash around with ease. I love the drain on the bottom, it makes draining a breeze! The back is cushioned nicely and keeps my little one's head comfy! My little one's favorite activity is bathing so at first she was all over the place because she was so excited about being in this new bath but now has settled nicely and loving her new bathtub!
Very durable. This bathtub is made very well and seems to be very durable. The bath is bigger than I had expected - however, the walls of the tub are nice and tall so you can fill water to your desired level. There's a baby bump that keeps baby upright. There's a little pull-tub drain at the bottom of the tub and it's super easy to clean. It's all one solid piece - so there won't be any corners where mildew will start up. This tub is large enough to fit smaller and bigger babies. I would recommend this tub.
Great for soaks. This bath is great for soaking little babies in especially eczema soaks for babies because its deep and covers a lot of their body. Its great for my little one he loves it, and he splashes around a lot, the little older one loves it too but the space is tight and squishy for him. Its small and easy to store but not too small over all I would recommend. I received this product for free to facilitate my honest review.
Big, easy to clean, empties quickly. Don't let the simplicity turn you away. I wanted to make sure I had an all plastic bath tub for my daughter for easy cleaning and low possibility for bacteria. The one I originally started with was longer but shallow so it was difficult for her to lean against the back. This one allows for her to lean against the back without slipping down all the time. The only negative aspect is, it's not super long so if you have a very tall baby their legs may have to bend at the knees. I have a 6 month old and it's perfect for her. The best part about this tub is the drain. It empties the entire tub in a few seconds so you can rinse all the suds without the water filling back up. I did receive this product for free in exchange for my honest feedback.
Baby enjoys bath time. I love the munchkin sit and soak non slip tub for my baby bath time. It has nice depth good for infants and Toddlers. The bath tub has nice backrest for my baby and its non slip which makes the bath time so much fun. The handle on it makes it so easy to use. It has a drain, which makes it easier to empty. My baby enjoys his bath time.
Love this bathtub! As a mom of three, I have owned a few other baby bathtubs, but this is by far my favorite. I love the size of this tub and I also love that baby can sit in this tub and I don't have to worry about her slipping or sliding. The depth of this tub allow baby to soak and play while bathing. When bath time is over, this tub has a plug on the bottom so I can easily release the water. The handle allows me to hang it over the door so that it is out of the way and not taking up space when not in use.
Great little tub! Munchkin sit and soak tub is the perfect little baby tub for all ages. Its little support for newborn at the bottom helps so much with keeping baby up and sliding down. The cushions on the tub feel so soft and slip resistant. The tub itself is very easy to clean and store away until the next time. I highly recommend. I received this product in exchange for my honest review.
---
More info
Brand – Munchkin
Manufacturer Part Number – 17264
UPC – 735282172649
ASIN – B07L4DHQY5
9 reviews for
Munchkin Sit and Soak Dual Stage Baby Bath Tub, 0-12 Months
$31.99
$34.99
as of 11/29/2022 3:31 pm
Price History for Munchkin Sit and Soak Baby Bath Tub (0-12 Months); White New
Statistics
| | | |
| --- | --- | --- |
| Current Price | $29.99 | 11/24/2022 |
| Highest Price | $49.99 | 10/13/2022 |
| Lowest Price | $29.99 | 11/21/2022 |
Since 10/13/2022
Last price changes
| | |
| --- | --- |
| $29.99 | 11/21/2022 |
| $44.99 | 10/22/2022 |
| $49.99 | 10/19/2022 |
| $44.99 | 10/15/2022 |
| $49.99 | 10/13/2022 |
Munchkin Sit and Soak Dual Stage Baby Bath Tub, 0-12 Months