Munchkin Shine Stainless Steel Drying Rack For Sippy Cup and Baby Bottle , Silver
Munchkin Shine Stainless Steel Drying Rack Product highlights!
High quality stainless steel bottle drying rack features a sleek design that extends use beyond the infant and toddler years
Moveable, ultra-durable drying pegs provide customizable configuration and fold flat for easy storage
Holds up to 8 bottles plus accessories, pump parts, cups, etc
Convenient removable drip tray system collects water in base, away from clean items
Top rack dishwasher safe
How to Clean Your Munchkin 360 Cup
Life of Macs We LOVE our Munchkin 360 cups! I cannot tell you how many parents have come to me with concerns about mold in their cups. We've had some of ...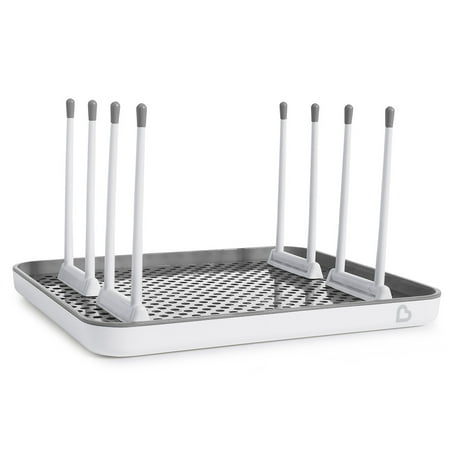 Munchkin Shine Stainless Steel Drying Rack
Throw in the towel on hand drying clean bottles. Munchkins Shine Stainless Steel Drying Rack features the latest in air drying performance without sacrificing your kitchens decor. High-performance, premium stainless steel drying rack air dries up to 8 bottles plus contains a large tray area that holds accessories, pump parts, cups... you name it. Innovative and sleek design includes moveable drying pegs that can be placed in any configuration to customize the drying rack for your specific drying needs, extending its use beyond the infant and toddler years. Convenient drip tray system collects excess water in the base to keep it away from clean items and off of countertops. Ultra-durable and sturdy drying pegs fold completely flat for easy storage. This drying rack has brawn and beauty and will "steel your heart", guaranteed. High performance premium stainless steel drying rack Moveable, ultra-durable drying pegs provide customizable configuration and fold flat for easy storage Holds up to 8 bottles plus accessories, pump parts, cups, etc Convenient removable drip tray system collects water in base, away from clean items Sleek design extends use beyond the infant and toddler years
---
More info
Brand – Munchkin
Manufacturer Part Number – 16164
UPC – 735282161643
ASIN – B01N1VM859
13 reviews for
Munchkin Shine Stainless Steel Drying Rack For Sippy Cup and Baby Bottle , Silver
$21.99
as of 06/27/2022 8:24 pm
Price History for Shine™ Stainless Steel Drying Rack
Munchkin Shine Stainless Steel Drying Rack For Sippy Cup and Baby Bottle , Silver