Munchkin Ocean Squirts Bath Toys
Munchkin Ocean Squirts Bath Toys Product highlights!
Includes (4) different water-squirting, floating ocean friends
Encourages learning and imaginative play
Perfect size and softness for little hands to hold and squeeze
Great for underwater bubbles and bath games
Squirters come in a clear canister for easy storage and gifting
9+ months
Munchkin Ocean Bath
velalosa #Munchkin Ocean Bath #Munchkin Squirtin' Sea Buddies.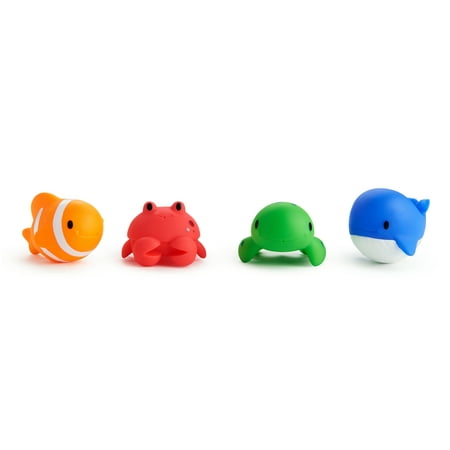 Munchkin Ocean Squirts Bath Toy, 4 Pack
Squirting bath toys offer a simple, interactive way to pack big fun into a compact space. With this pack of four Munchkin Ocean Squirts, you can introduce marine-inspired play and teach your child about sea creatures, all at the same time. Each brightly-colored bath toy floats, squirts water, and is sized just right for little hands to grasp and squeeze. They're also durable, so you don't have to worry about chipping or breaking. See what adventures unfold when you add these ocean friends to your bathtime mix!
---
More info
Brand – Munchkin
Manufacturer Part Number – 31205SS
UPC – 735282312052
ASIN – B000GK7AMU
10 reviews for
Munchkin Ocean Squirts Bath Toys
$5.29
as of 09/30/2022 3:24 am
Price History for Ocean™ Bath Squirts - 4 Pack
Munchkin Ocean Squirts Bath Toys