Munchkin Nursery Projector and Sound System, White
Munchkin Nursery Projector and Sound System Product highlights!
Includes 10 different sounds and 3 projection cartridges (Sleepy Sky, Soothing Sea, and Calming Rainforest) that can be stored behind unit when not in use
To avoid risk of fire, burns, personal injury and electric shock it should not be played with or placed where small children can reach it.Projector lens rotates to project images onto the wall or ceiling
Timer feature allows for automatic shut-off after 15, 30 or 60 minutes of continuous play
Voice activation feature turns device on in response to baby's cry
Includes 1-year limited warranty
Amazoncom Stephen A. Means big_slacker's review of Munchkin Nursery Projector and Sound Syste...
Buy here : http://amzn.to/1YuYkeB.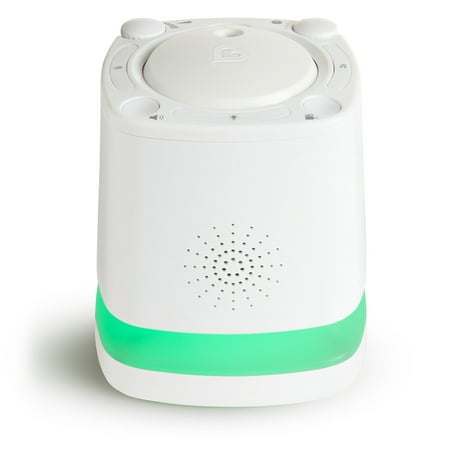 Munchkin Sound Asleep Nursery Projector and Sound Machine with LED Nightlight, Includes 3 Ambient Sounds, 2 Lullabies, and 2 Mozart Compositions
Every parent in history has dealt with sleepless nights, napless days, and babies who simply refuse to wind down no matter how exhausted they are. The Munchkin Sound Asleep Nursery Projector and Sound System was designed to invite more zzz's into your life by stepping in when endless rocking, bouncing, and driving won't do the trick. Your new best friend plays soothing sounds and lullabies, projects adorable images to the wall, and doubles as a multi-colored nightlight, which either rotates through the full rainbow spectrum or displays the color of your choice. The versatile system has 3 sleep timer settings (15, 30, 60 minutes) and can be set to play continuously too, as long as you don't exceed 8 hours at a time. Select the calming combination that works best for your baby -- and you! -- and get ready for more peaceful moments in your day.
---
More info
Brand – Munchkin
Manufacturer Part Number – 21190
UPC – 735282211904
ASIN – B07KKZ1JFF
11 reviews for
Munchkin Nursery Projector and Sound System, White
$30.00
as of 12/06/2022 8:26 pm
$32.52
as of 12/06/2022 8:26 pm
Price History for Munchkin Sound Asleep Nursery Projector and Sound Machine with LED Nightlight
Statistics
| | | |
| --- | --- | --- |
| Current Price | $28.16 | 12/03/2022 |
| Highest Price | $32.00 | 11/19/2022 |
| Lowest Price | $27.20 | 11/27/2022 |
Since 11/19/2022
Last price changes
| | |
| --- | --- |
| $28.16 | 12/05/2022 |
| $32.00 | 12/05/2022 |
| $27.20 | 12/02/2022 |
| $32.00 | 12/02/2022 |
| $28.80 | 11/29/2022 |
Munchkin Nursery Projector and Sound System, White