Munchkin Multi Toddler Plates
Munchkin Multi Toddler Plates Product highlights!
Pack of 8 colorful, stackable matching plates
Perfectly sized plates for toddler meals and high chair trays
Raised edges for easy scooping
Complete your toddler's dining set with matching bowls and cups (sold separately)
6+ months, top-rack dishwasher safe, BPA-free and microwave safe
Munchkin Splash 4 Piece Toddler Divided Plate and Bowl Dining Set
Highlights of my Video Review: 1. Great Set 2. Excellent Quality If there are any questions, please feel free to leave me comments below and I will do my best to ...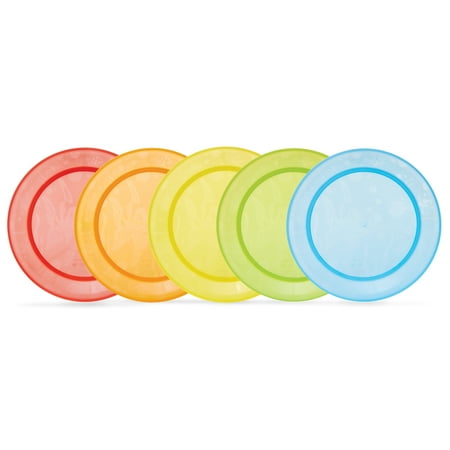 Munchkin Multi Plates, 5 Pack, BPA Free
There never seem to be enough plates in the cupboard with your snack-happy toddler around. Breakfast, lunch, dinner, snacks - a plate is needed for practically every meal. Is this a familiar problem? You can start building your toddler tableware collection with this convenient five-pack. They're perfectly sized for toddler meals and fit great on high chair trays and small place mats. Matching bowls and cups sold separately. Pack of 5 colorful, stackable matching plates with subtle fish designs Perfectly sized plates for toddler meals and high chair trays Complete your toddler's dining set with matching bowls and cups (sold separately) Top rack dishwasher-safe BPA-free Microwave-safe 6+ months
---
More info
Brand – Munchkin
Manufacturer Part Number – 10280SS
UPC – 735282102806
ASIN – B07QFCC91T
13 reviews for
Munchkin Multi Toddler Plates
$9.16
as of 12/04/2022 10:28 am
Price History for Multi Plates
Munchkin Multi Toddler Plates