Munchkin Miracle 360 WildLove Trainer Cup
Munchkin Miracle 360 WildLove Trainer Cup Product highlights!
The Miracle 360? WildLove Cup features critically important and well-loved species
100% recycled and recyclable packaging – expands to teach your little one about each animal and its beautiful, at-risk habitat
360? edge allows drinking from any side of the cup – simply tilt the cup and suck the valve's edge
Cup automatically seals when a child stops drinking completely to eliminate spills. Easy to clean with no extra valves or parts
6+ months, 6 Ounce capacity, BPA-free, and top-rack dishwasher safe
Product Review munchkin 360 miracle cup demonstration
quick review of these great no-spill sippy cups. My 2 year old will demonstrate how great these cup are!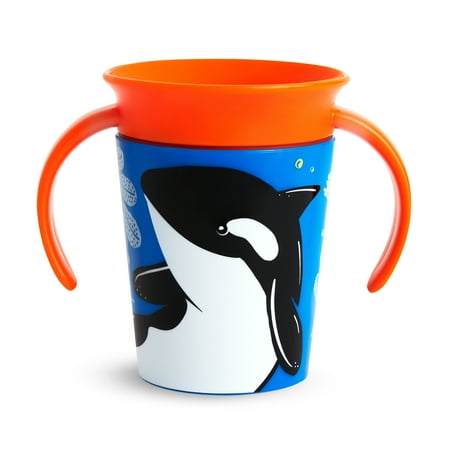 Munchkin Miracle 360 WildLove Trainer Cup, 6 Ounce, Orca
as of 12/01/2022 10:27 am
Hi, I'm Orca Whale! I can be found in oceans all over the world! I eat everything from fish to walruses, seals & sharks! I can eat up to 500 pounds of food a day! I am known for my black & white skin, which helps me camouflage in the water, my dark back blends with the water, while my white underside blends with the sun shining down on the sea. Did you know I can swim as far as 100 miles a day? Orca whales live together in groups called pods, led by our moms & grandmas. We stay with our families our entire lives and spend our days swimming, feeding & playing. Munchkin has partnered with the International Fund for Animal Welfare (IFAW) and Whale Sanctuary Project to highlight important species and help protect them for future generations. On behalf of you and your little ones, Munchkin has a made a donation to these organizations to support animals in need.
---
More info
Brand – Munchkin
Manufacturer Part Number – 17391
UPC – 735282173912
ASIN – B07R8JNZN2
13 reviews for
Munchkin Miracle 360 WildLove Trainer Cup
$7.99
as of 12/04/2022 6:30 pm
Price History for Munchkin Miracle 360 WildLove Trainer Cup, 6 Ounce, Orca
Statistics
| | | |
| --- | --- | --- |
| Current Price | $7.95 | 12/01/2022 |
| Highest Price | $7.95 | 11/03/2022 |
| Lowest Price | $7.95 | 11/03/2022 |
Since 11/03/2022
Munchkin Miracle 360 WildLove Trainer Cup