Munchkin Loft Baby Gate for Stairs Hardware Mounted
Munchkin Loft Baby Gate for Stairs Hardware Mounted Product highlights!
Hardware mount baby gate extends between 26.5 – 40″ wide and stands 30.5″ high. Measure your desired opening prior to purchase to ensure a proper fit.
Great for use at the top or bottom of stairs, hallways and doorways.To clean Use mild soap and wipe with a damp cloth
Indexed Sizing System allows for quick and easy width adjustments with pre-set index positions
Integrated Tuning System adjusts for a perfect vertical fit even when walls aren't level
Quick-release wall mount allows gate to be removed quickly for high-traffic times or entertaining
Door swings open in both directions and double-locking system on handle is easy for adults, but difficult for children to use
Sleek, modern aluminum styling
Item number: 31064, model number: MK0012, suitable for children 6 to 24 months
JPMA Certified, 1 year limited warranty
Hallways and Doors, Extends 26.5″- 40″ Wide, Silver Aluminum
MUNCHKIN LUNA BABY GATE • Unboxing, Review and Set Up
This is an unboxing, review and setup of the Munchkin LUNA Baby Safety Gate. This is Munchkin's latest baby safety gate in 2017 and we think it's the best baby ...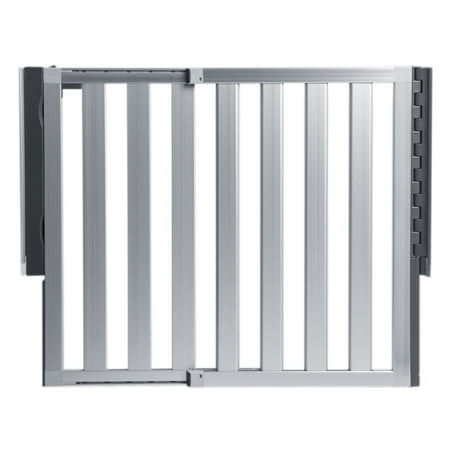 Munchkin 31064 LOFT Aluminum Safety Gate
Offering both modern style and intelligent function, the Munchkin LOFT Aluminum Gate provides an ideal way to keep your child safe. Made from durable, lightweight aluminum with a sleek silver finish, the wall-mounted gate can be easily secured to virtually any place in your home with the Indexed Sizing System and the Integrated Tuning System. Adults can open and shut the gate with little effort, while the extra-wide walkthrough adds convenience. Plus, you can quickly remove the gate whenever you need.Designed with the modern family in mind, the Munchkin LOFT Aluminum Gate is fastened firmly to the wall with secure wall mounts. The gate latches shut with a simple push, while the double-lock handle is easy for adults to open. The handle is integrated into the design for a sleek look.When youre entertaining company or dont require use of the gate, the quick-release wall mounts allow you to easily remove the entire gate without tools. Its the ideal gate for your busy, active lifestyle.Measuring 30-1/2 inches in height when mounted, the gate keeps babies, toddlers, and pets safe and secure. Its designed with the Integrated Tuning System, which allows you to accommodate irregular walls for a level vertical fit. Plus, it can be hung above the floor so you wont stub your toes when walking through the gate.he gate can accommodate openings from 26-1/2 to 40 inches, so its ideal for use virtually anywhere in your home--from kitchen doorways to the top of the stairs. Two 1/2-inch spacers are included to help extend the gate to its 40 inch maximum width. The gate swings open in both directions, and you can access virtually the entire width of the gate as a walkthrough. Its extra-wide door is ideal for heavy traffic areas.Made from aluminum for durability and strength, this gate features a slim profile and contemporary, silver-toned finish that will fit into your modern decor.Features:Extending safety gate with sleek all aluminum stylingUse everyplace in the home - top of stairs, bottom of stairs or between roomsGate locks shut with just a simple push and swings open in both directionsExtra wide walkthrough allows for easy in and out accessBacked by a limited one-year - SKU: MNCK006
---
More info
Brand – Munchkin
Manufacturer Part Number – 31064
UPC – 735282310645
ASIN – B004CLBWY6
8 reviews for
Munchkin Loft Baby Gate for Stairs Hardware Mounted
$200.88
as of 12/04/2022 2:24 pm
$191.24
$248.61
out of stock
Price History for Loft Aluminum Safety Gate
Statistics
| | | |
| --- | --- | --- |
| Current Price | $196.00 | 12/03/2022 |
| Highest Price | $196.00 | 07/02/2022 |
| Lowest Price | $179.99 | 06/11/2022 |
Since 06/11/2022
Last price changes
| | |
| --- | --- |
| $196.00 | 07/02/2022 |
| $179.99 | 06/11/2022 |
Munchkin Loft Baby Gate for Stairs Hardware Mounted