Munchkin Latch Transition Training Cup, 8 Ounce
Munchkin Latch Transition Training Cup Product highlights!
Better LATCH: Proper latch is achieved when mom's nipple reaches all the way back to baby's soft palate. The accordion-style nipple on LATCH stretches like the breast, helping baby latch easily and correctly.
Like the Breast: When breastfeeding, baby controls the flow of milk by applying pressure to the base of mom's nipple. The LATCH bottle mimics mom by releasing more breast milk as baby pushes against the nipple's base.
Less Colic: While feeding, the accordion-style nipple flexes as baby moves her head. This allows baby to maintain her latch, thus decreasing ingestion of air.
Anti-colic valve: The one-way, ant-colic valve located at the bottom of the LATCH bottle allows for breast milk to flow while ensuing air bubbles do not travel through the breast milk. Slow-flow nipple: Experts agree the best transition occurs when b
Soft silicone spout is gentle on little mouths and flexible so it moves with baby. Anti-colic valve prevents air bubbles to reduce gas and fussiness
Munchkin 2 Piece Gentle Transition Trainer Cup Review, Perfect Transitional Cup
Munchkin 2 Piece Gentle Transition Trainer Cup Review, Perfect Transitional Cup! ▻▻ Amazon Shop Link: ...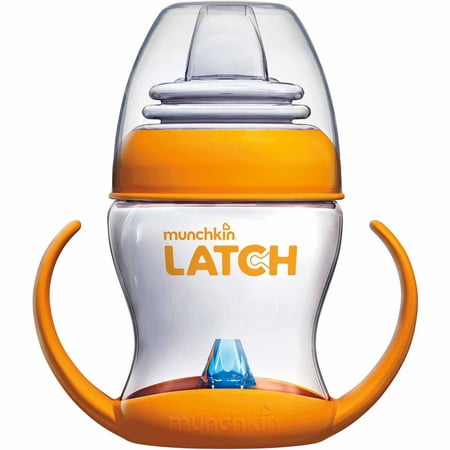 Munchkin LATCH 4oz Transition Cup, BPA Free
$10.34


$

8.99
out of stock
as of 11/28/2022 10:32 am
It becomes clear that baby is ready to transition out of a bottle and into a sippy cup when they begin trying to hold the bottle themselves. The transition process can be frustrating for baby and for mom, but the LATCH Transition Cup is ideal to make the training process easier. The spout moves with baby, for a continuous latch. Additionally, with the removable, easy-grip handles and a snap-tight lid, this cup is ideal for training around the house and when on the go.
---
More info
Brand – Munchkin
Manufacturer Part Number – 43580
UPC – 735282435805
ASIN – B00S5B74TG
8 reviews for
Munchkin Latch Transition Training Cup, 8 Ounce
$8.99
as of 11/28/2022 9:28 pm
$19.43
as of 11/28/2022 9:28 pm
$8.99
$10.34
out of stock
Price History for Munchkin Latch Transition Cup, 4 Ounce
Statistics
| | | |
| --- | --- | --- |
| Current Price | $8.99 | 11/28/2022 |
| Highest Price | $8.99 | 11/09/2022 |
| Lowest Price | $8.99 | 11/09/2022 |
Since 11/09/2022
Munchkin Latch Transition Training Cup, 8 Ounce