Munchkin Latch Spinning Drying Rack For Sippy Cup and Baby Bottle
Munchkin Latch Spinning Drying Rack For Sippy Cup and Baby Bottle Product highlights!
Large bottle drying rack with convenient multi-level design
Designed to hold up to 8 latch bottles and parts
Spinning trays offer 360-degree access
Utensil bin with drain holes allow utensils to dry
Pegs fold up and down for easy set-up, custom configuration and easy storage
New Munchkin Latch Bottle Drying Rack - August 15 2018
Thanks Little Dearies! I saw this on her Instagram page. She uses them for painting racks. I bought 2 of these racks for painting as well. I will be putting them to ...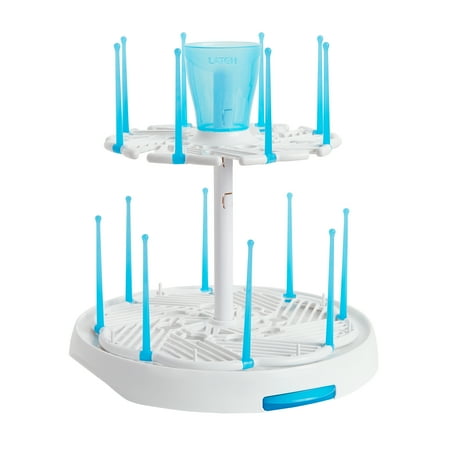 Munchkin LATCH Spinning Drying Rack
$20.69


$

17.92
out of stock
The towel never quite reaches the bottom of those freshly washed bottles and cups, but let's face it, nothing works as well as air-drying. The LATCH Spinning Drying Rack from Munchkin has two tiers and plenty of space for loading up to 8 LATCH bottles and accessories at once, allowing you to leave that towel behind ? for good. The convenient two-tier design allows you to double your drying capacity while keeping counters neat and clutter-free. Spin the 360-degree trays for easy loading and unloading of even the smallest bottle parts and a handy utensil bin with drain holes allows utensils to dry. Movable pegs even fold down flat for easy storage and can be placed wherever you like on the trays for custom spacing that works best for you. Take this drying rack for a spin ? it's a bottle washing must!
---
More info
Brand – Munchkin
Manufacturer Part Number – 44140
UPC – 735282441400
ASIN – B00O64QJJC
13 reviews for
Munchkin Latch Spinning Drying Rack For Sippy Cup and Baby Bottle
$28.60
as of 12/06/2022 5:38 pm
$17.92
$20.69
out of stock
Price History for LATCH™ Spinning Drying Rack
Munchkin Latch Spinning Drying Rack For Sippy Cup and Baby Bottle