Munchkin Latch Microwave Sterilize Bags
Munchkin Latch Microwave Sterilize Bags Product highlights!
Kill up to 99.9% of common bacteria on bottles, pump parts and accessories in as little as 90 seconds. Each bag can be used 30 times and includes an easy close pull tab for easy, repeated use
Pack of 6 reusable bags with 30 uses for each bag, bags can be marked after each use
Holds up to two wide mouth bottles or double breast pump parts
Cool-touch grip enables burn-free handling when removing from microwave
Bag measures 8 inches tall and 11 inches wide
Eliminates up to 99.9% of Common Bacteria , White, Small (8″ x 11″)
How To Sterilize Baby Bottles In The Microwave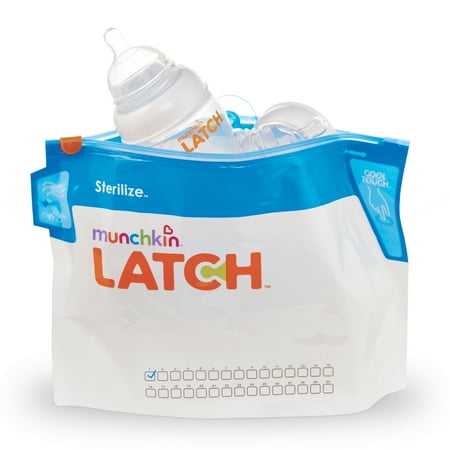 Munchkin LATCH Bottle Sterilizer Bags, 6 Pack
Munchkin's LATCH™ Bottle Sterilizer™ Bags allow you to eliminate 99.9% of bacteria from bottles, nipples, pacifiers, teethers, small toys and breast pump accessories when on the go. Just fill the bags with small feeding items and water, pop them in the microwave, and you're full steam ahead for a hygienic clean! The set includes six bags and each bag can be used up to 30 times. The bags come with an easy spot to mark after each steam cycle to help you keep track of how many times you have used them. To keep you safe from burns, each bag contains Cool-Touch™ grip for easy handling and a tab opening to allow steam to escape. Baby-safe cleaning should always come this naturally and easily.
---
More info
Brand – Munchkin
Manufacturer Part Number – 15745
UPC – 735282157455
ASIN – B019YJS09K
13 reviews for
Munchkin Latch Microwave Sterilize Bags
$8.13
as of 12/06/2022 5:38 pm
$8.99
as of 12/06/2022 5:38 pm
Price History for LATCH™ Sterilize™ Bags
Munchkin Latch Microwave Sterilize Bags