Munchkin Fresh Food Feeder
Munchkin Fresh Food Feeder Product highlights!
Feeder helps reduce the risk of choking; Only small pieces of digestible food get through
Simple and easy to use; Place food in mesh bag and snap shut to secure
Colored mesh reduces staining; Introduce fresh fruits and veggies to your baby with ease
BPA free
6 plus months
Munchkin Fresh Food Feeders Review
This is a review of the Munchkin Fresh Food Feeders. They are awesome for babies and you can put fresh fruits or vegetables in them. I usually put ice inside of ...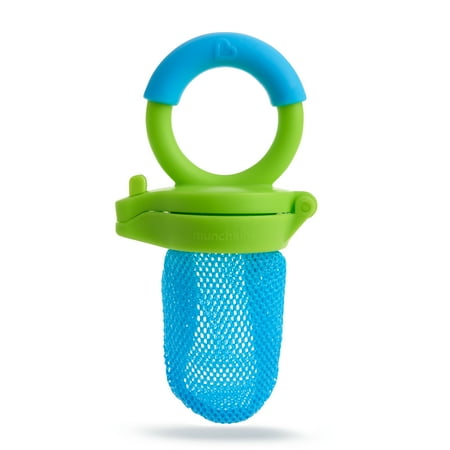 Munchkin Fresh Food Feeder, BPA-Free, 1 Pack, Color May Vary
You want what's best for baby, and that means adding fresh fruits, vegetables, and purees to the mealtime mix. The Munchkin Fresh Food Feeder allows your little one to enjoy delicious finger foods without giving you cause for concern. With its simple mesh design, this handy teething feeder allows for babies to gnaw on foods safely. Simply place a piece of fruit, vegetable, or even meat into the mesh bag and snap it shut. Baby can chew, suck, and taste the whole food goodness, with only small, digestible pieces coming through - reducing the risk of choking. It's also a smart alternative to a teething toy. The Fresh Food Feeder features a colorful, easy-grip handle for your little one to hold - making this his first real step toward feeding independence.
---
More info
Brand – Munchkin
Manufacturer Part Number – 43101PS_parent
UPC – 735282431012
ASIN – B000GK5XY2
13 reviews for
Munchkin Fresh Food Feeder
$6.99
as of 11/29/2022 11:37 am
Price History for Fresh Food Feeder
Munchkin Fresh Food Feeder