Munchkin Fresh Diaper Pail Refills for Diaper Genie and Munchkin Diaper Pails
Munchkin Fresh Diaper Pail Refills Product highlights!
Lower cost diaper pail bags for Diaper Genie branded pails
Compatible with genie elite, diaper genie II elite, diaper genie essentials and diaper genie II pails
Compatible with the Munchkin STEP and PAIL Diaper Pails
7-layer bags
4 pack (holds up to 1,088 diapers)
Munchkin Diaper Pail Hack - use regular trash bags (Diaper Genie)
Use regular trash bags in the Munchkin Fiaper Pail instead of the expensive refill kits.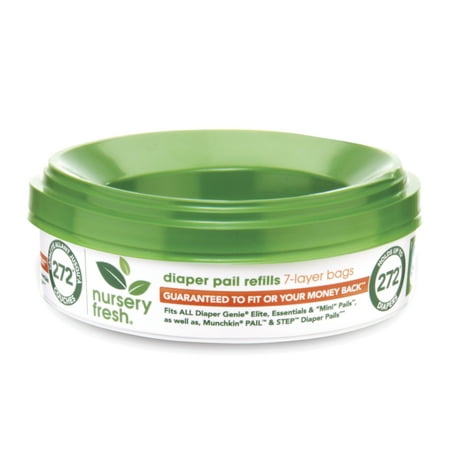 Nursery Fresh Diaper Pail Refill 1 Pack, 272 Count
Eliminate unwanted diaper odors with Nursery Fresh Diaper Pail Refills. They're compatible with multiple pails such as the Munchkin Step Pail and all Genie Elite, Essentials, and Mini models. These Munchkin diaper pail refills are built with odor protection to lock in bad smells and it is created with a seven-layer film. This allows for the bags to be durable and capable of holding up to 816 diapers. Three come in a pack and each Diaper Genie refill contains 272 bags. Inserting them into the Genie pails is simple. Place the refill container at the top of the Genie. The bags hang inside the can and once full can be pulled off and disposed of. Then the next bag pulls down to be used. This pack of Nursery Fresh diaper pail refills can be a valuable asset in a baby's nursery room.
---
More info
Brand – Munchkin
Manufacturer Part Number – 24107
UPC – 735282241079
ASIN – B00CXH2M2W
13 reviews for
Munchkin Fresh Diaper Pail Refills for Diaper Genie and Munchkin Diaper Pails
$60.58
as of 08/10/2022 5:28 pm
Price History for Nursery Fresh® Diaper Pail Refills - 1 Pack
Munchkin Fresh Diaper Pail Refills for Diaper Genie and Munchkin Diaper Pails