Munchkin Food Adventure Splash Toddler Dining Set
Munchkin Food Adventure Splash Toddler Dining Set Product highlights!
Travel-themed big kid dinnerware set with stainless utensils, non-slip plate, and fun foodie activities
Vacation-inspired ready-to-gift packaging adds fun, global touch
"Stamp" the included map and passport with special stickers to mark newly sampled foods
Includes splash plate, stainless steel fork, knife and spoon set for kids, food adventure map, passport, and paper stickers
BPA free, 18 months and up
Includes Plate and Stainless Steel Utensils, Blue
Munchkin Color Me Hungry Tableware for Toddler | Thatsricaslife
munchkincolormehungrydiningset #munchkincolormehungry #toddlerkidstablewareset.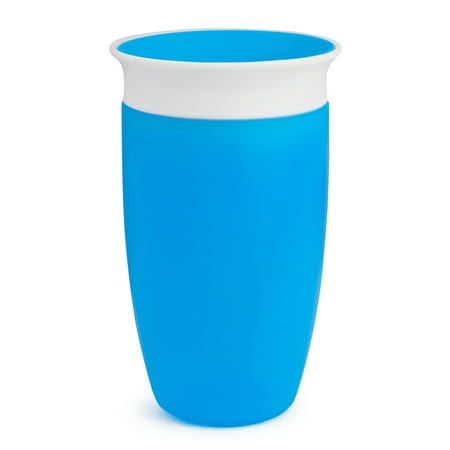 Munchkin Miracle 360 Spoutless Sippy Cup, 10oz, Color May Vary
Help your little one get accustomed to using his or her own glass, starting with the Munchkin Miracle 360 Spoutless Sippy Cup. Toddlers are a messy bunch, especially when first navigating their own cups. This item can help them learn to drink independently minus the spills in your diaper bag, on your furniture, and on your eager-to-learn child. This Munchkin no-spill sippy cup is specially designed with both parents and kids in mind. It eliminates messes while supporting kids' dental health all at the same time. This Munchkin toddler cup can drink from anywhere around the rim, like a regular cup, helping to support normal muscle development in a child's mouth. With no extra spouts, straws, or pieces, it's easy to use and even easier to clean. The Munchkin Miracle 360 Spoutless Sippy cup is suited for ages 12 months and up and is available in different colors.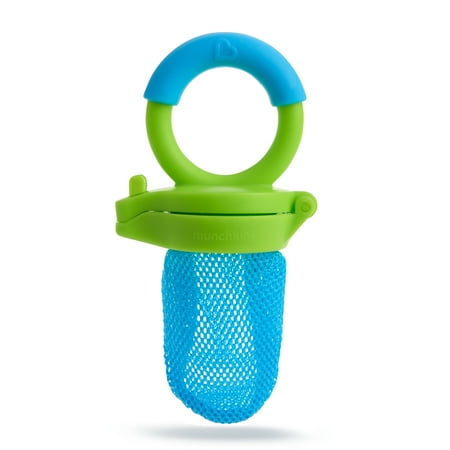 Munchkin Fresh Food Feeder, 1 Pack, Colors Vary
You want what's best for baby, and that means adding fresh fruits, vegetables, and purees to the mealtime mix. The Munchkin Fresh Food Feeder allows your little one to enjoy delicious finger foods without giving you cause for concern. With its simple mesh design, this handy teething feeder allows for babies to gnaw on foods safely. Simply place a piece of fruit, vegetable, or even meat into the mesh bag and snap it shut. Baby can chew, suck, and taste the whole food goodness, with only small, digestible pieces coming through - reducing the risk of choking. It's also a smart alternative to a teething toy. The Fresh Food Feeder features a colorful, easy-grip handle for your little one to hold - making this his first real step toward feeding independence.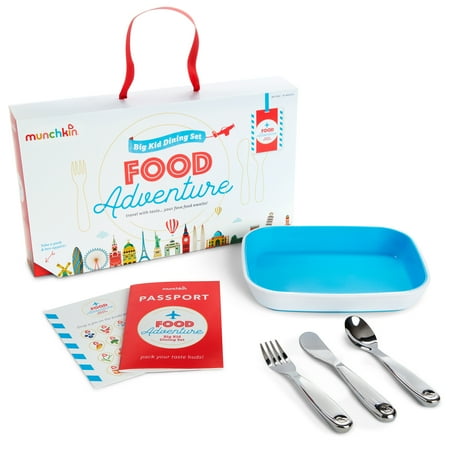 Munchkin Food Adventure Splash Toddler Dining Gift Set, Includes Plate and Stainless Steel Utensils, Blue
Let the culinary journey begin! Picky eater or not, expanding a kid's palate can feel downright impossible. Our travel-themed Food Adventure Splash Big Kid Dining Set is a cute and creative way to get little ones to try new things - and put new foods on the map (literally). Awaken curious taste buds with fun activities designed to encourage adventurous eating, plus big-kid dinnerware and utensils to make them feel even more worldly and grown up. The included Food Adventure map, passport and stickers encourage kids to explore new and healthy eats from around the world. They?ll love ?pinning? the new foods they try and sharing their personal foodie adventures with family and friends. Delicious destinations await, so grab that passport and say bonjour to a tasty new world!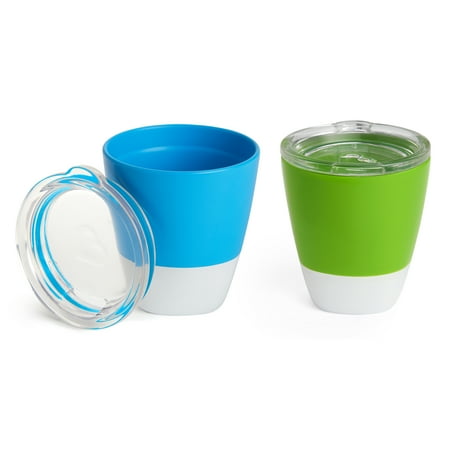 Munchkin Splash Toddler Cup & Lid, 2 Pack Blue/Green
Ready to make a splash next mealtime!? Munchkin's two-pack of training cups from the Splash line is guaranteed to get your little excited next time she asks for a drink. The modern design won't clash with your décor and the convenient press-fit training lid directs the flow of liquid, so no messes while little hands learn to use a big kid cup. BPA-free and dishwasher safe, these cups are perfect for teaching and everyday use!
Munchkin Splash Toddler Cups with Training Lids, 7 Oz, 4 Pack Color: Assorted
Set includes (4) cups with removable press fit training lidsModern, bright design with white accents (4 colors included)Cups nest together for easy storage7 ounce capacity for juice, milk and waterBPA free, top rack dishwasher safe, 18 Plus monthsThe modern design won't clash with your decor and the convenient press fit training lid directs the flow of liquid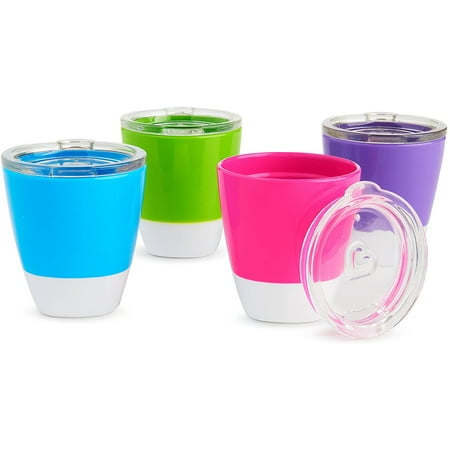 Munchkin Splash Toddler Cups with Training Lids, 7 Oz, 4 Pack
Material BPA FreeColor AssortedItem Weight 0.28 PoundsCapacity 6.88 OuncesAbout this itemSet includes (4) cups with removable press fit training lidsModern, bright design with white accents (4 colors included)Cups nest together for easy storage7 ounce capacity for juice, milk and waterBPA free, top rack dishwasher safe, 18 Plus monthsThe modern design won't clash with your decor and the convenient press fit training lid directs the flow of liquid
---
More info
Brand – Munchkin
Manufacturer Part Number – 17241_parent
UPC – 735282172410
ASIN – B07X6KBHRB
13 reviews for
Munchkin Food Adventure Splash Toddler Dining Set
Price History for Munchkin Miracle 360 Spoutless Sippy Cup, 10oz, Color May Vary
Statistics
| | | |
| --- | --- | --- |
| Current Price | $6.75 | 11/25/2022 |
| Highest Price | $9.99 | 08/10/2022 |
| Lowest Price | $6.75 | 11/25/2022 |
Since 06/02/2022
Last price changes
| | |
| --- | --- |
| $6.95 | 11/26/2022 |
| $9.99 | 11/26/2022 |
| $6.95 | 11/25/2022 |
| $6.75 | 11/25/2022 |
| $6.79 | 11/24/2022 |
Munchkin Food Adventure Splash Toddler Dining Set