Munchkin Duck Duck Clean Sponge Bath Toy
Munchkin Duck Duck Clean Sponge Bath Toy Product highlights!
Comes in 3 distinct colors
Cloth is soft to baby's skin
Lightweight and easy for little hands to operate
6 plus months
Ideal Bath toy Cleaning routine | How to wash Toys
Cleaning Routine of bath toys is different from routine toys..in this video i shared the method i use.. to prevent growth of mold or fungus in them. Watch and share ...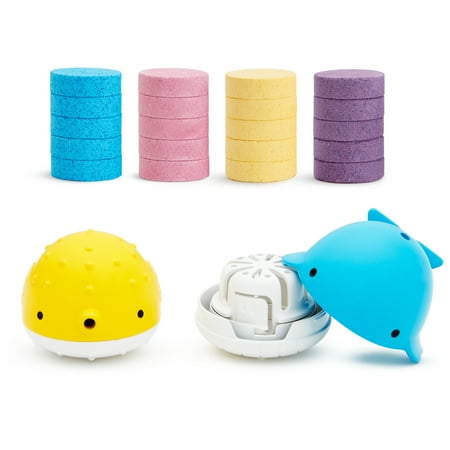 Munchkin Color Buddies Moisturizing Bath Bombs & 2 Toy Dispenser Set Bath Toy, Includes Nourishing Vitamin E and Shea Butter, Non-Toxic, Whale/Puffer Fish, 20 Pack
Colorful bath water is a fun trick for getting even the most bath-averse toddler into the tub. A brilliant addition to the bath routine, Color Buddies™ are kid-friendly bath bombs that infuse water with clean, multihued fun. Our colorful bath bombs are moisturizing and safe for kids (grownups, too!). Simply drop the bath bombs into the dispenser of choice, fasten the safety cap, immerse in water and watch as colors fizz and bloom. With 20 included bath bombs, you can teach little ones how to combine colors to make new ones. The nontoxic formula is super easy to clean and won't stain tubs or skin. And the adorable whale and puffer fish dispensers double as floating bath strainers. Color us captivated!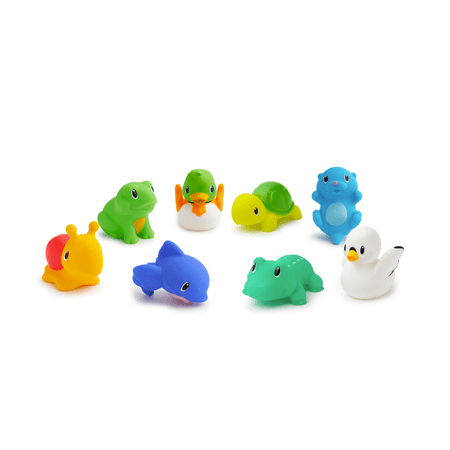 Munchkin Lake Squirts Bath Toy, 8 Pack
This set of eight colorful squirting bath toys is guaranteed to keep bath boredom at bay! With the Squirting Lake Buddies, your child can squirt, play, and learn about animals that call lakes their home. Each brightly-colored bath toy floats, squirts water, and is sized just right for little hands to grasp and squeeze. The clear canister provides easy storage and makes it a great baby or toddler gift, too! Introduce all toys at once for an exciting lake-inspired adventure, or surprise your little one with a new bath friend each day. Either way, bathtime is sure to go swimmingly! For best results, rinse with clean water and squeeze out all excess water from squirter. Allow to air-dry before storing.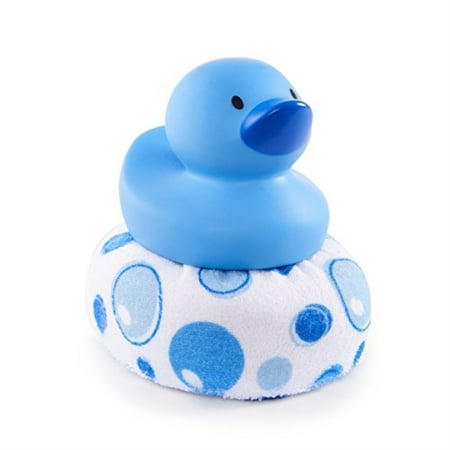 Munchkin Duck Duck Clean Sponge Bath Toy, Blue
Get quacky clean. Here comes everyone's favorite rubber ducky to help make scrubbing during bath time a cinch. Just add some soap and water to the soft cloth "sponge" under the duck, and waddle all around your little one's body. Once they're soapy, just rinse with water and voilaone clean, happy munchkin.SKU:ADIB01FKUZFAY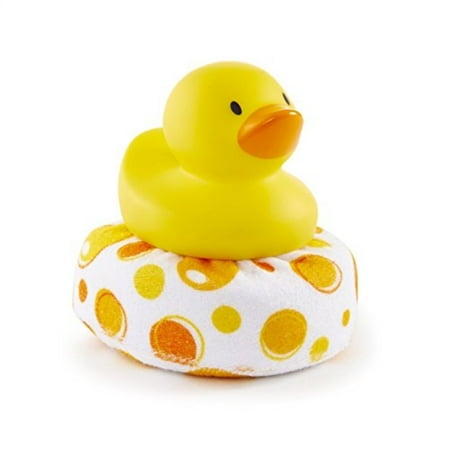 Munchkin Duck Duck Clean Sponge Bath Toy, Yellow
Comes in 3 distinct colors*Cloth is soft to baby's skin*Lightweight and easy for little hands to operate*6 plus monthsSKU:ADIB01FKUZFKO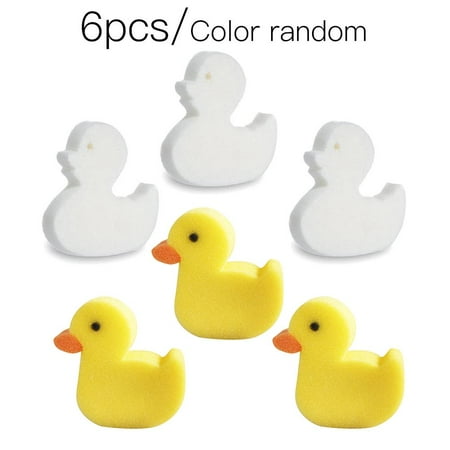 Oil-absorbing Sponge Duck Shaped Convenient Scum Sponge Cleaning Tool Accessories for Hot Tubs Swimming Pools
Features:1. Greater Adsorption Capacity: The lifeless scum is about 40 times its own weight, does not absorb any water; a good helper to reduce the formation of scum in the hot tub or swimming pool.2. Easy Use: Just float it in the skimmer of the swimming pool or spa, the sponge will absorb the dirt and grease in the swimming pool, making you happy and healthy in the water.3. Using Note: When the sponge is clogged with dirt, just squeeze out the oil, or when it gets dirty, just clean with a detergent and rinse thoroughly.4. Wide Use: Our scum sponge can not only be used to clean your hot tub or swimming pool, but also a good cleaning tool when you take a bath.Specifications:Color: White yellow randomDensity: low densitySuitable occasions: The oil-absorbing sponge is suitable for hot tubs and swimming pools to enjoy swimming in summer.Storage and maintenance methods:1. Keep the sponge clean, the sponge with sebum dirt will become dirty and hard. At this time, please clean the sponge. (Use a neutral detergent, wash under the above pressure, and dry in a cool place. When the puff loses its elasticity, it will not recover its soft state after cleaning. Please replace the sponge.)2. The sponge itself is white, and an oxidation reaction will occur when the white object is exposed for a long time. Therefore, yellowing and discoloration are normal phenomena.3. The usual storage method is to place it in a cool place and seal it with a black bag.Packing List:1/6* Oil-absorbing Sponge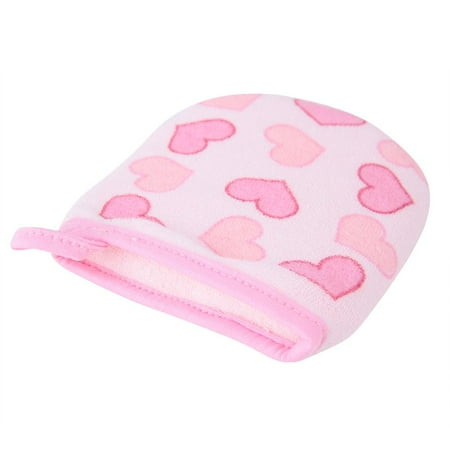 LYUMO Cartoon Mittens Model Cotton Baby Bath Shower Sponge Kids Bath Brush Cotton Scrubber, Baby Cotton Sponge, Baby Cartoon Scrubber
Feature:Lovely cartoon star shape, lively and vivid printing pattern.Made of high quality cotton and sponge, soft and comfortableFull of elasticity and strong water absorptionBathing necessities for babies, mothers can enjoy a good time to help babies bathe.Exquisite workmanship, not easy to loose the threads.Specification:Material: Cotton, SpongeShape: mittensProduct dimension: 13*10.5cm / 5.1*4.1inPattern: Yellow duck, Blue footprint, Pink love(Optional)Package list:1 * Shower SpongeNote:The actual product color may deviate from the photo due to light.There may be a slight deviation in the measurement of product.
---
More info
Brand – Munchkin
Manufacturer Part Number – 16103_parent
UPC – 735282161032
ASIN – B01FKUZFKO
8 reviews for
Munchkin Duck Duck Clean Sponge Bath Toy
Price History for Munchkin Duck Duck Clean Sponge Bath Toy, Yellow
Statistics
| | | |
| --- | --- | --- |
| Current Price | $5.49 | 11/28/2022 |
| Highest Price | $5.49 | 07/31/2022 |
| Lowest Price | $5.49 | 07/31/2022 |
Since 07/31/2022
Munchkin Duck Duck Clean Sponge Bath Toy